The Law Offices of Carly R. Croskrey provides a full range of family law services, handling cases in Orange County, Los Angeles County, Riverside County and San Bernadino County.
INITIAL CONSULTATION
Potential clients are offered a thirty minute consultation with an attorney for the amount of $50.00 to help you determine the services, estimated costs, and time required to successfully resolve your case.
QUICK LINKS:
Our services, listed below, are quick links to help you answer specific questions and will take you directly to that topic.
DIVORCE
CUSTODY & GUARDIANSHIP
SUPPORT
MEDIATION
RESTRAINING ORDERS
Contact Us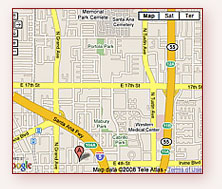 The Law Offices of Carly R. Croskrey
2677 N. Main St., Ste. 850, Santa Ana, CA 92705
Tel: 714.558.0062 Fax:714.558.3973
Email: .(JavaScript must be enabled to view this email address)
It is critical that our clients arrive at the appropriate courthouse and on time. Please use the following links to get maps and directions.
Superior Court of California, County of Orange
Central Justice Center
700 Civic Center Drive West, Santa Ana, CA 92701
(714) 834-3373
Lamoreaux Justice Center
341 The City Drive, P.O. Box 14170, Orange, CA 92863-1569
(714) 935-7000
Superior Court of California, County of Riverside
Family Law
4175 Main Street, Riverside, CA 92501
(951) 955-1940
Hemet Branch
880 N. State Street, Hemet, CA 92543-1498
(951) 766-2321
Superior Court of California, County of San Bernardino
San Bernardino County Court House
303 W. Third Street, Fourth Fl., San Bernardino, CA 92415-0302
(909) 382-3506
Rancho Cucamonga Court
8303 N. Haven Ave., Rancho Cucamonga, CA 91730
(909) 945-4131
Superior Court of California, County of Los Angeles
LA County Court House
111 N. Hill Street, Los Angeles, CA 90012-3014
(213) 974-5147
Pomona North Courthouse
350 W. Mission Blvd., Pomona, CA 91766-1681
(909) 620-3201
Pasadena Courthouse
300 E. Walnut Street, Pasadena, CA 91101-1566
(626) 356-5684
South District – Long Beach
415 W. Ocean Blvd., Long Beach, CA 90802-4591
(562) 491-6201
Norwalk Courthouse
12720 Norwalk Blvd., Norwalk, CA 90650-3188
(562) 807-7340